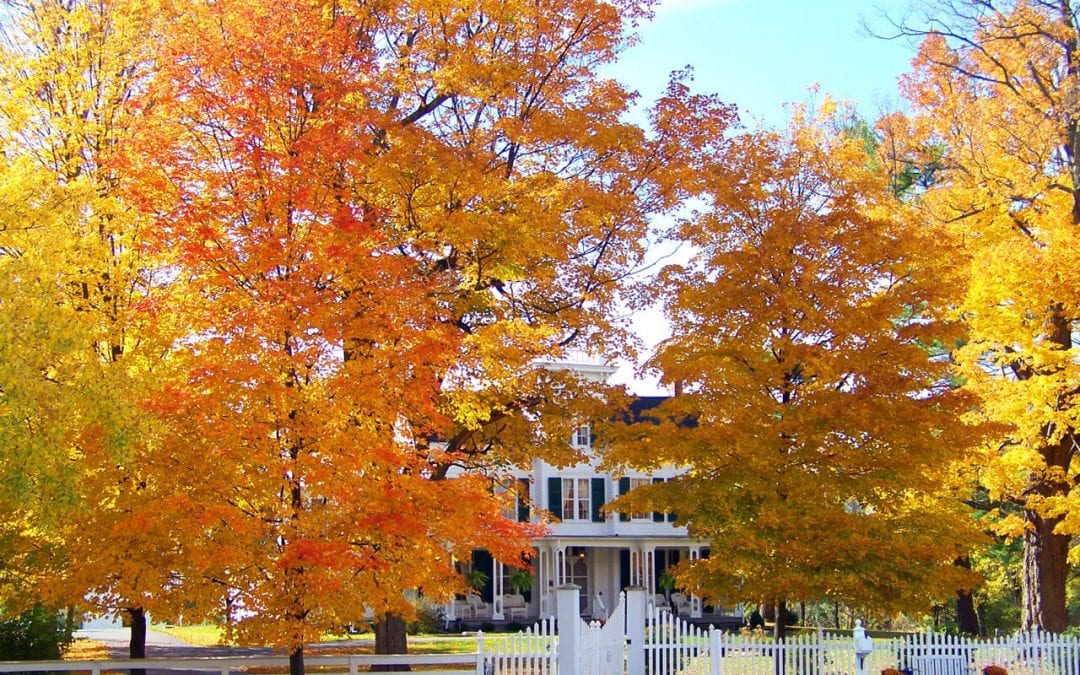 Summer has come and gone and fall is nearly upon us. The kids are back in school, so pack away all the camping, swimming, and other fun summer gear and make sure your home is ready for the first of many cooler days. Use the following 8 tips to help you prepare your home for fall and the coming winter. Doing so will protect you and your home, save you money, and help your home look better next spring.
1. Fertilize the Lawn to Prepare Your Home For Fall
Protecting your lawn over the winter will help it grow more lush and green the following spring. The hot summer stresses grass. Help refortify your lawn with a good dose of fertilizer now. Not only will you enjoy an attractive lawn next year, but your neighbors will also appreciate your efforts.
2. Drain Outdoor Faucets and Sprinklers
Don't turn your patio, walkway, or driveway into a skating rink overnight. Before that first freeze comes unexpectedly, turn off and drain outdoor water faucets, hoses, and sprinklers. Then you can take steps to prevent pipes from freezing and bursting when the temperatures drop to very cold for long periods.
3. Drain and Store Gardening Equipment
Around mid-October, or earlier if you live far north, mow your lawn for the last time of the year. After that, drain the tanks of your lawn mower, weed eater, and other lawn equipment. If you don't, unused gas will lead to gunk and other harmful buildups that may ruin your equipment, leaving you to replace it in the spring. Now is a good time to sharpen mower blades.
4. Clean the Gutters
Cleaning the gutters is an important task to prepare your home for fall. Clogged gutters can eventually lead to a damaged foundation and a host of other problems. Grab a ladder and someone to help you to make this task easier. If your house is one story, there are leaf blower attachments available that will help get the job done. If needed, hire professionals to clean the gutters.
5. Get Your HVAC Serviced
Your AC has worked hard all summer and now's a good time to prepare it for a long winter's rest. Clean the coils, filters, and air ducts, or you can hire someone to do it for you. Once clean and dry, cover the unit to protect it from debris and ice. Switch thermostats from cooling to heating. Prepare your furnace for its first use this season by cleaning the combustion chamber, inspecting the flue pipe, and changing the filters. Help your heating system function more efficiently by checking for leaks around windows and doors. Use weather stripping and caulking to seal any areas that aren't airtight.
6. Check and Clean the Chimney
Checking your chimney is an important safety tip to prepare your home for fall. The last thing you want is for smoke, soot, or carbon monoxide to fill the room. Even gas fireplaces need chimneys inspected for bird or squirrel nests blocking the flue. Chimney pipes need to be free of cracks so smoke won't enter the room. Inspecting and cleaning chimneys is best left to the professionals.
7. Inspect the Roof
Conduct a complete inspection of your roof, or hire a professional home inspector if you are not comfortable. Look for loose, missing, or curled shingles, and wind damage. Stop problems that may turn into leaks through the wind, rain, and snow of winter. Check gutters for loose shingle granules, which may be a sign you need a new roof.
8. Get Ice Melter and Snow Shovels Ready
The first cold, snowy spell can be a surprise, leaving customers scrambling for supplies at the last minute. Beat the crowds and get ice and snow-clearing supplies and equipment ready now to prepare your home for fall. You may even consider investing in a snow blower so that you can avoid strenuous snow shoveling. You will likely save money by buying them when they are not in such high demand.
In Michigan, it can turn from fall to winter very quickly. Be sure to check out our post about preparing your home for winter.
American Home Inspection Services serves Southeast Michigan with home inspection services. Contact us to schedule an appointment.