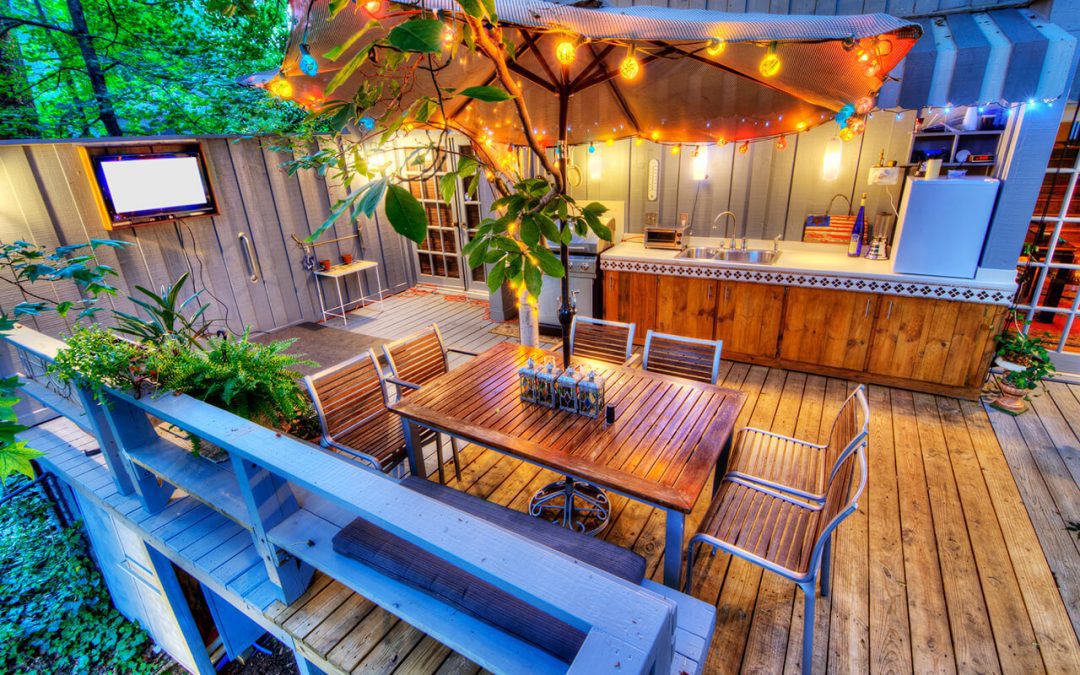 When the weather warms up, there is no better place to be than relaxing on your deck or patio. It's a perfect place to enjoy the summer weather. Here are a few tips to improve the deck and prepare your outdoor living spaces for the summer.
Install a Classic Pergola
Building a vine-covered pergola in your yard is an attractive way to add shade to a patio or deck. Use wood beams to build the frame and lattice for walls. The filtered sunlight created by the latticework overhead provides a calm, relaxing environment that is perfect for backyard entertaining.
Add Lighting to Improve the Deck
An easy way to transform your deck or patio is by adding lights. Install string lights overhead to add a festive look to your outdoor getaway. Add solar-powered deck post lights or an outdoor fireplace to brighten the space.
Rustic Deck and Patio Improvements
Rustic furniture and accent pieces give the deck, porch, or patio an authentic feel. Weathered wooden and cast-iron furniture go together perfectly. If you're into DIY projects, there are various options for upcycled pallet furniture to build for your deck.
Island Deck
A deck in the middle of the backyard offers an escape a short distance from the house. Enjoy relaxing outdoors and entertaining friends and neighbors while being surrounded by the beauty of your backyard. Purchase lounge furniture and a patio umbrella to provide shade from the sun.
Build a Gazebo for the Grill
Build a gazebo to house your grill and provide space to show off your grilling skills in comfort. The shade from the gazebo protects you from the sun and keeps you cool while cooking on a hot grill. Add comfortable furniture to make it an ideal place to hang out with friends for your backyard cookout.
Improve Your Deck With a Living Wall
Create a living wall to give yourself more privacy from the neighbors. Add hanging flower baskets or install herb plants with a dripping irrigation system to a privacy fence or wooden wall. A garden wall adds color and fragrance to the area around the deck, courtyard, or patio.
Summer is a great time to get outdoors and into nature with friends and family. With these deck and patio ideas, you'll make time outside more enjoyable. Simple touches will transform the backyard into a fun and attractive place your neighbors will envy.
American Home Inspection Services provides inspection services in Southeast Michigan. Contact us to schedule an appointment.